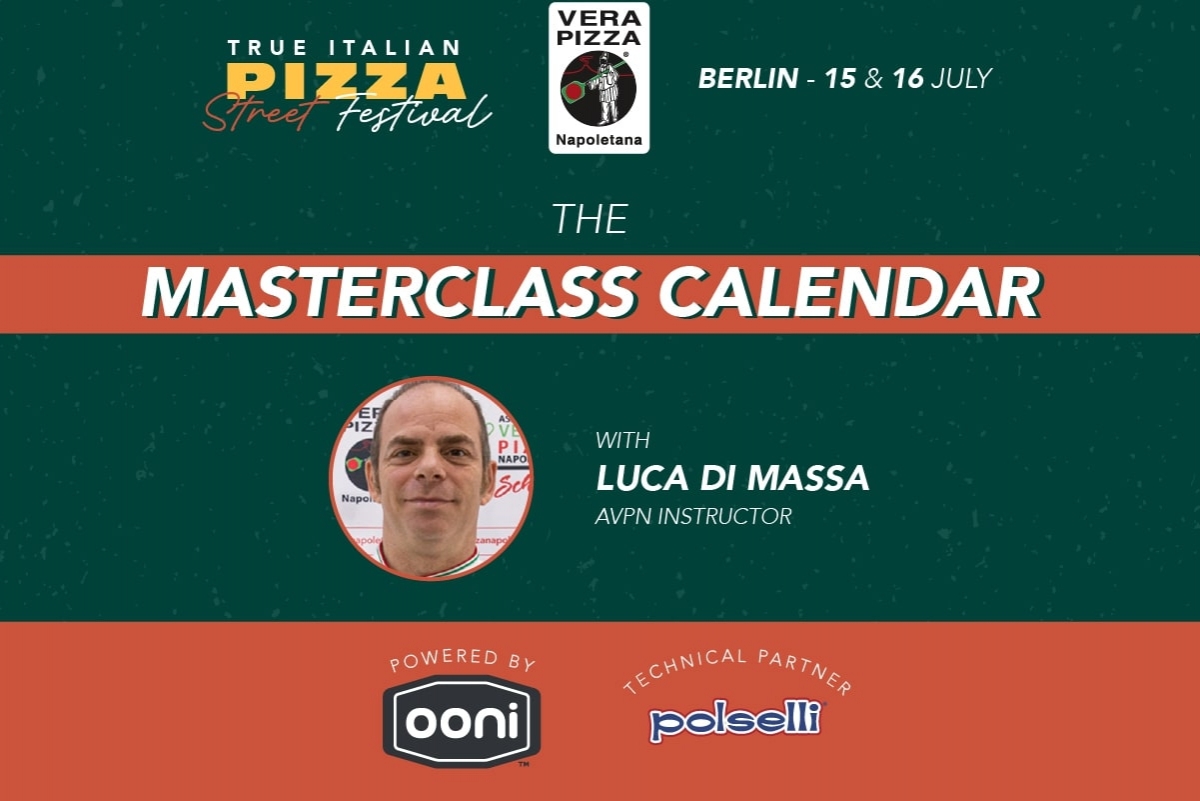 The event organized by True Italian Authentic Food promises pizza, live music, engaging workshops and exciting surprises. Also present is our affiliate "Malafemmena" with delicious Fried Pizzas.
We are waiting for you on July 15th and 16th for the second edition of the True Italian Pizza Street Festival in Berlin with masterclasses by Luca Di Massa.
The Pizza Workshops will allow you to learn about the Art of the Neapolitan pizza chef, recognized by UNESCO as an intangible heritage of humanity.
A compelling journey within the history and culture of the True Neapolitan Pizza that aims to make the participants live the experience of being a pizza maker for an hour.
The experience involves the demonstration of how a Verace dough is made by the master Luca Di Massa - directly from Italy - and then drafting and cooking of the Vera Pizza Napoletana in the oven and finally with the tasting of the real Neapolitan pizza.
The AVPN will pay homage to each participant the apron and the certificate of participation.

The calendar:
Saturday, July 15
12:00 and 14:00 reserved for the press and media
3:30 pm - 5:30 pm - 7:30 pm - 9:00 pm
Sunday, July 16th
11:30 am - 1:30 pm - 3:30 pm - 5:30 pm - 7:30 pm - 9:00 pm

It is possible to book the workshop online until Thursday, July 13 at 11:00 am at the following link https://www.pizzanapoletana.org/en/berlin or during the festival. The laboratory costs €20.00 per person.
Powered by: Ooni Pizza Ovens Deutschland
Technical Partner: Polselli - La Farina Italiana
We thank Umberto Napolitano of Pizza Schule for his support and cooperation.
Follow our official profiles and don't miss our latest news:
Facebook @verapizzanapoletana
Instagram @pizzanapoletanaverace
TikTok @pizzanapoletanaverace
YouTube @verapizza