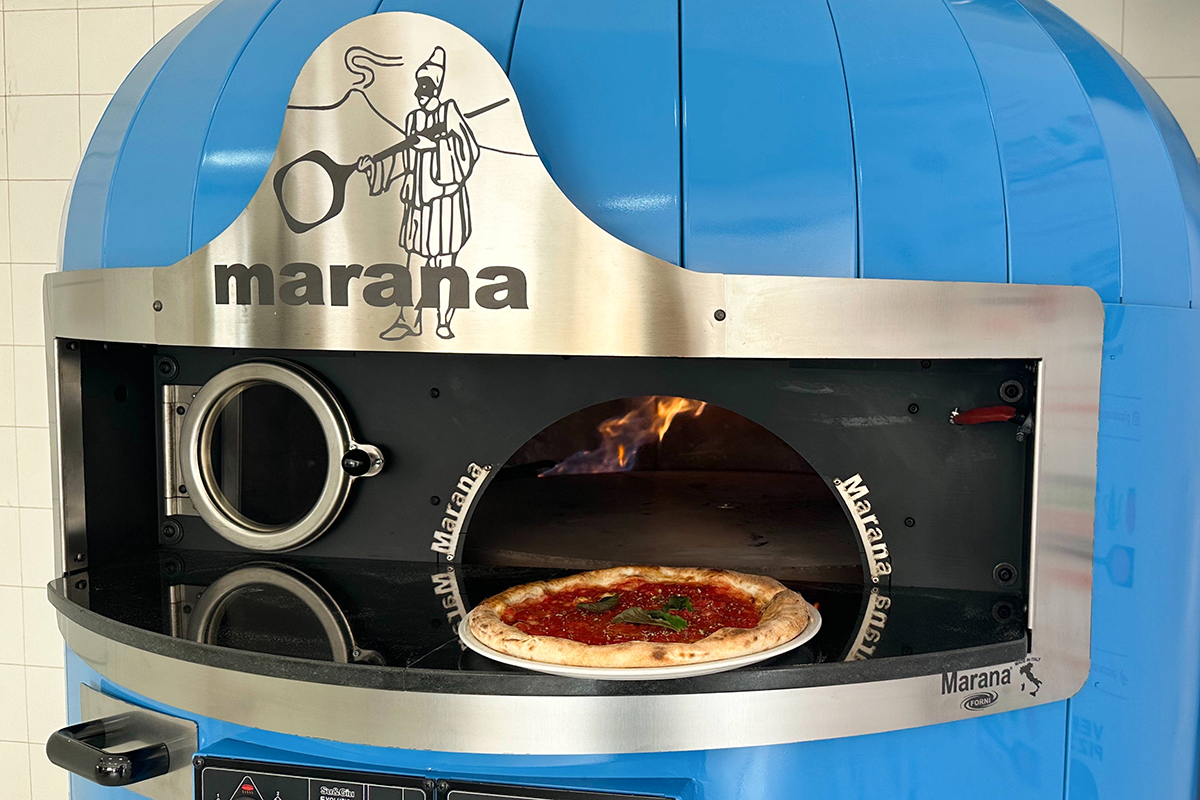 The official announcement to the public and to the insiders of the sector provided for the BufalaFest, scheduled for the 8th of September in Naples.
AVPN President Antonio Pace said: "An important technological support to the craftsmanship of the baker"
The rotating pizza oven makes it possible to cook several pizzas at the same time. It makes easy to manage the rotation of the pizzas, saves time and increases productivity, with perfect results. This is the "Marana Rotoforno SU&GIU oven". It is the first rotary pizza oven to be approved by the AVPN.
This new technology will contribute to the efficiency of the production process, confirming the path of innovation and research that the AVPN has been following for some time, in order to help bakers to obtain a high-quality result. The rotating pizza oven makes baking easier and at the same time has advantages in terms of productivity, reducing the waiting time for the customer. The rotary pizza oven complies with the standards set by the International Regulation of Vera Pizza Napoletana, the reference text for authentic Neapolitan pizza.
"Technology in support of quality - affirms Antonio Pace, President of the AVPN - is one of the main assets that identify our Association. Thats why we are constantly improving the quality of our products and at the same time supporting our pizza chefs in terms of time and optimising results. An improvement that can certainly be seen in the actual use of the rotating oven, which does not replace the static oven, but offers a solid and interesting option. We have, of course, tested the oven and appreciated its innovative functions, such as the baking system, the innovative rotation speed control and the temperature maintenance".
The Marana Rotoforno SU&GIU is made up of three main technical features: the rotating plate, which ensures that the entire surface of the dough is cooked evenly; the lifting system, which allows the height of the pizza to be adjusted during cooking; and the temperature control, which ensures that the temperature s always the same. The rotary oven is thus an excellent alternative to the traditional oven, assisting the baker without replacing his skills. To promote this sought-after profession, AVPN and Marana will set up a training course for young people and new entrants to the craft.
The approval of the rotating oven will be made official on 8th September at 8.30 p.m. during the masterclass. The event will be hosted by President Antonio Pace and General Secretary Paolo Surace during the Bufala Fest in the unique Arena del Gusto in Piazza Municipio. A moment of discussion and in depth analysis that will allow the audience of pizza makers and enthusiasts present at the event to see the oven in action and to discuss its innovative features.